In addition to my research and teaching duties, I currently serve as the Associate Dean for Research in the College of Humanities. I was appointed to this post by Dean Dianne Harris in 2015; Dianne is now a Senior Program Officer with the Mellon Foundation. In Spring 2017, I was asked to present a snapshot of research activity and funding in the college. What follows are a few highlights from that talk as a way to illustrate what I do as Associate Dean for Research (also known as ADR).
Here is a snapshot of college grant funding from 2013-2017. Briefly stated, funding has increased.
The college is home to seven department. Four are ranked in some fashion.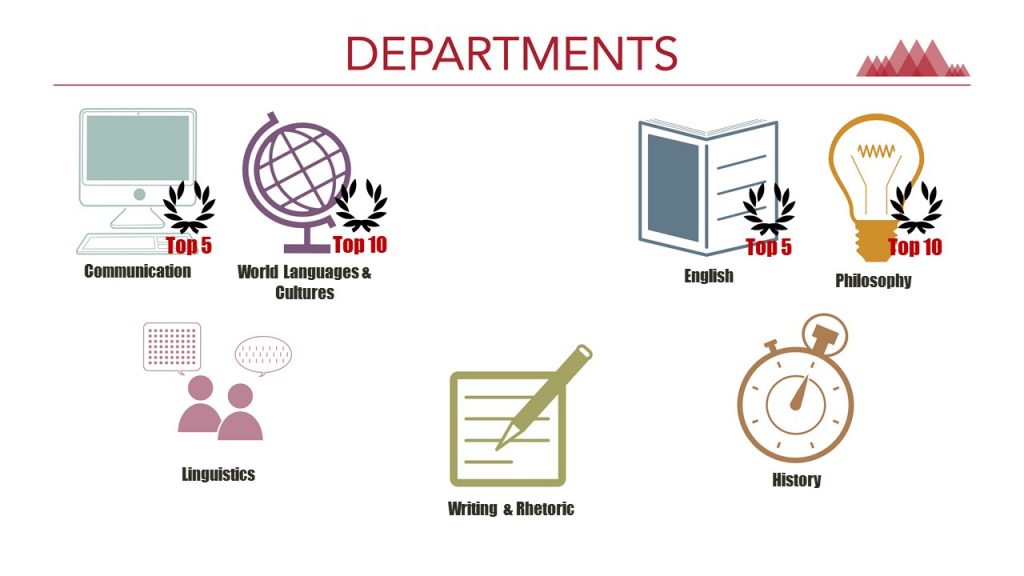 The college is also home to nine research centers or institutes.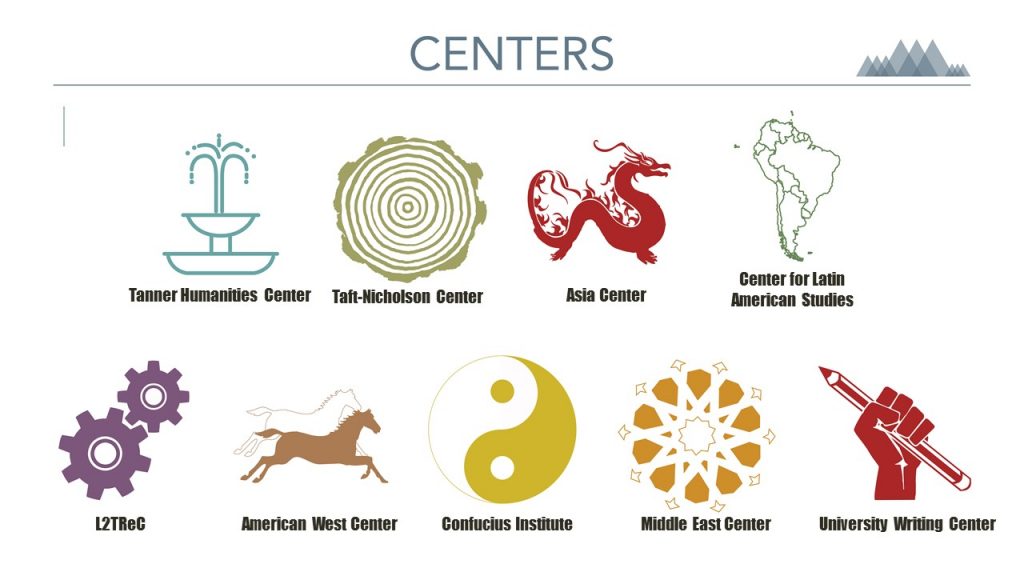 Faculty in the college are prolific; we have produced 60+ books and 300+ articles since 2014.
Faculty have been remarkably successful at garnering external funding. For example, we have won 83 grants or fellowships from NEH since 1969.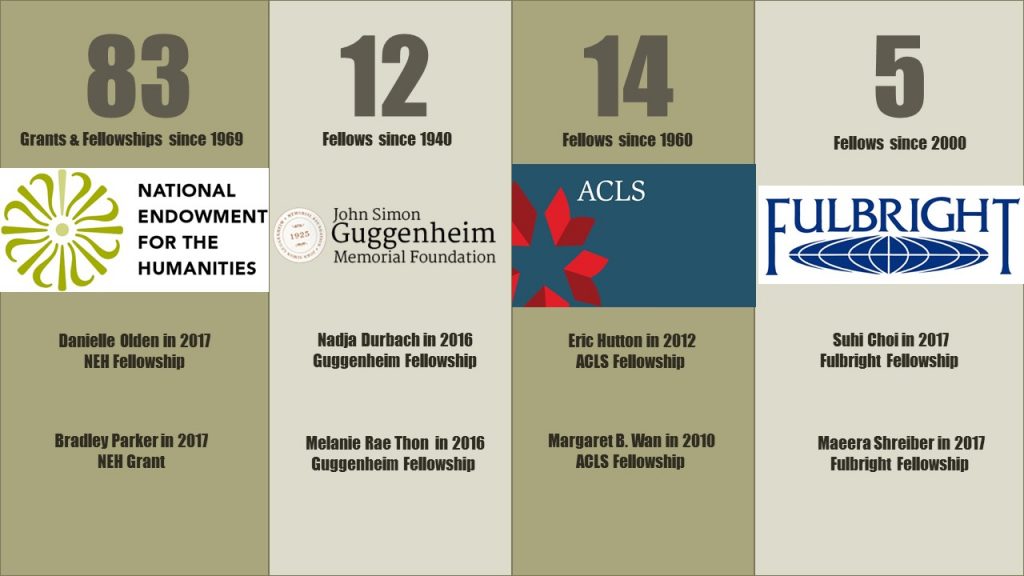 Our college traces back to the John R. Park Debate Society (founded in 1869). Here are a few historical highlights.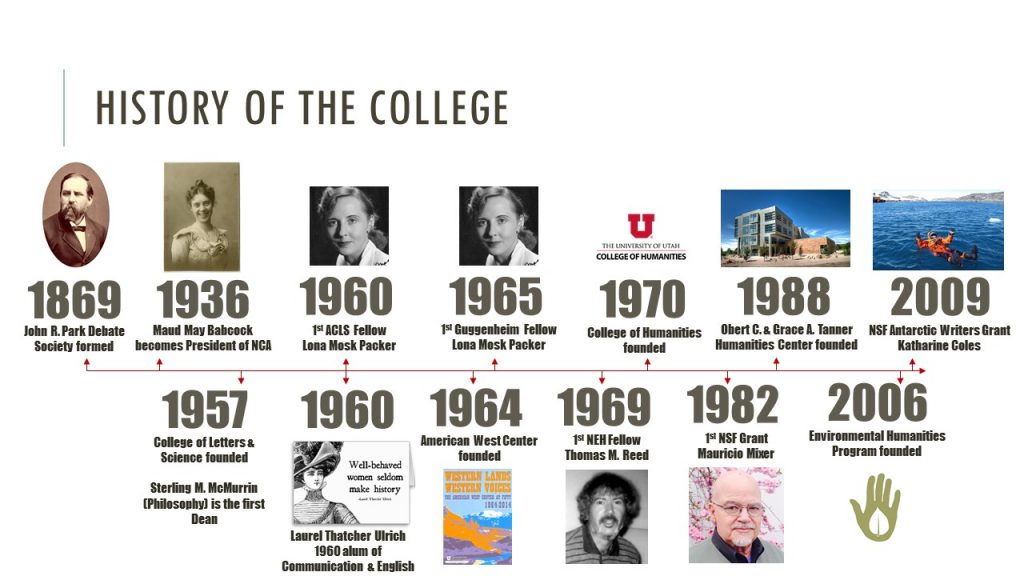 One of our brightest stars is Maud May Babcock. She founded the Department of Elocution in 1892. Today, that department is called the Department of Communication. That makes our Department of Communication one of the oldest communication programs in the world.
Lona Mosk Packer was one of our early superstars. She won two ACLS Fellowships and a Guggenheim. Unfortunately, she passed away right after winning it. Still, her book, Christina Rossetti, is scholarship of the highest quality. And she remains a wonderful part of our research story.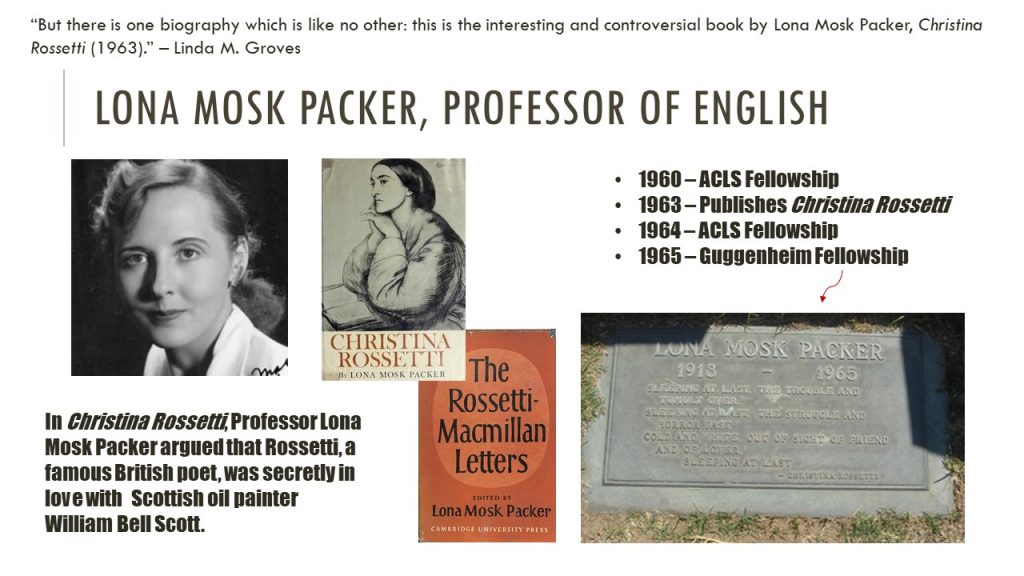 Our Department of English is still known for winning Guggenheims (4 since 2012). The creative writing program is one of the Top 5 in the country.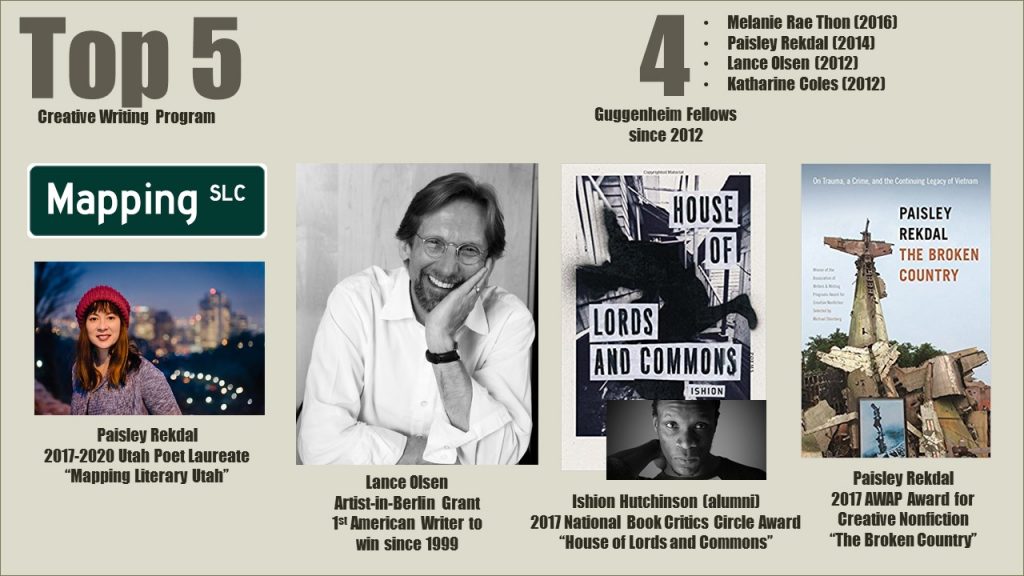 Our Department of Philosophy is highly ranked in five different areas, including philosophy of science. The department is also known for winning NSF funding; we've had 19 NSF grants since 1982.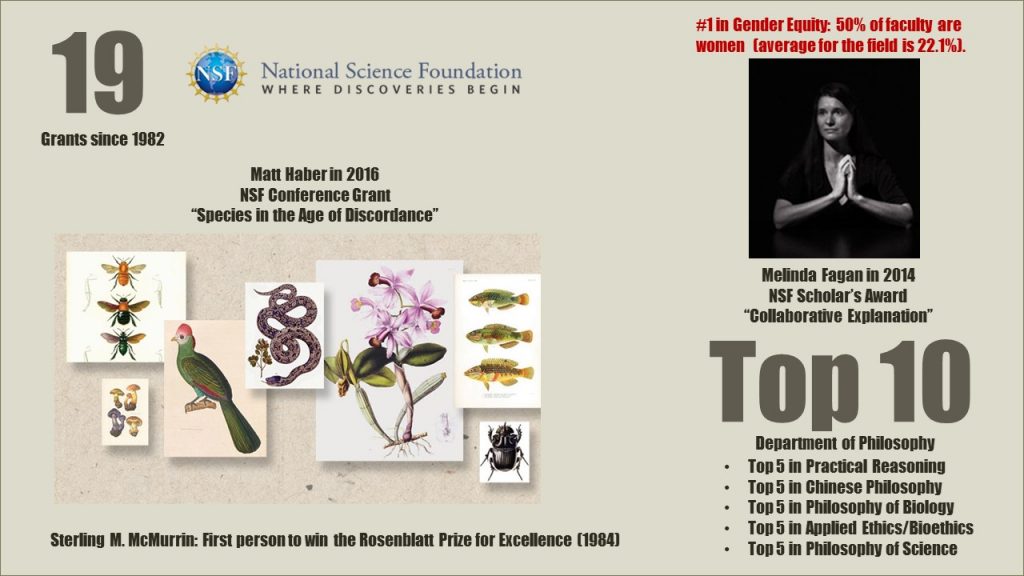 Our Department of World Languages and Cultures is ranked in the Top 10, and is well known for language education and dual language immersion research.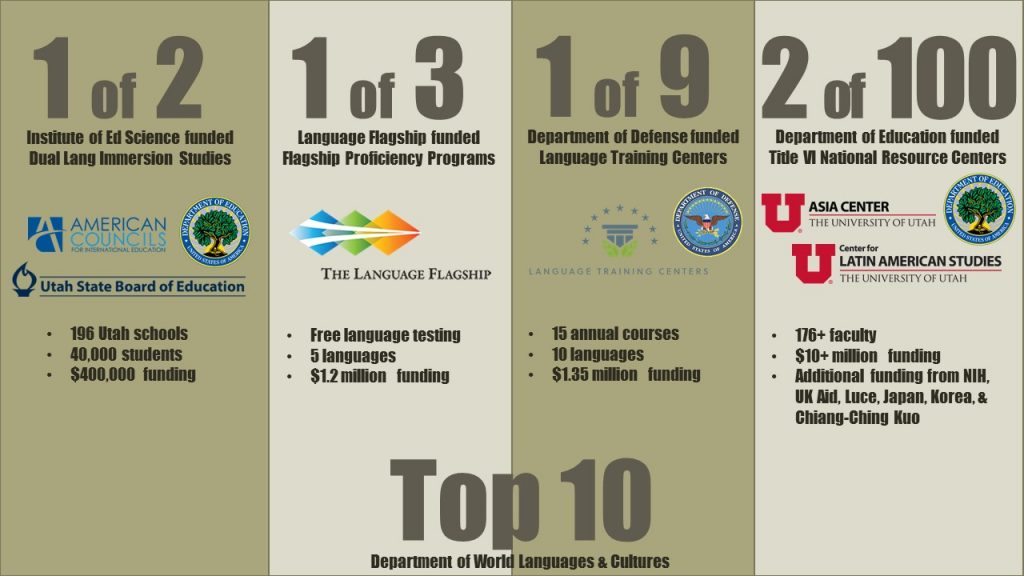 As ADR, I've developed several programs to increase support for faculty in the college. In 2016, we launched the Kickstarter program.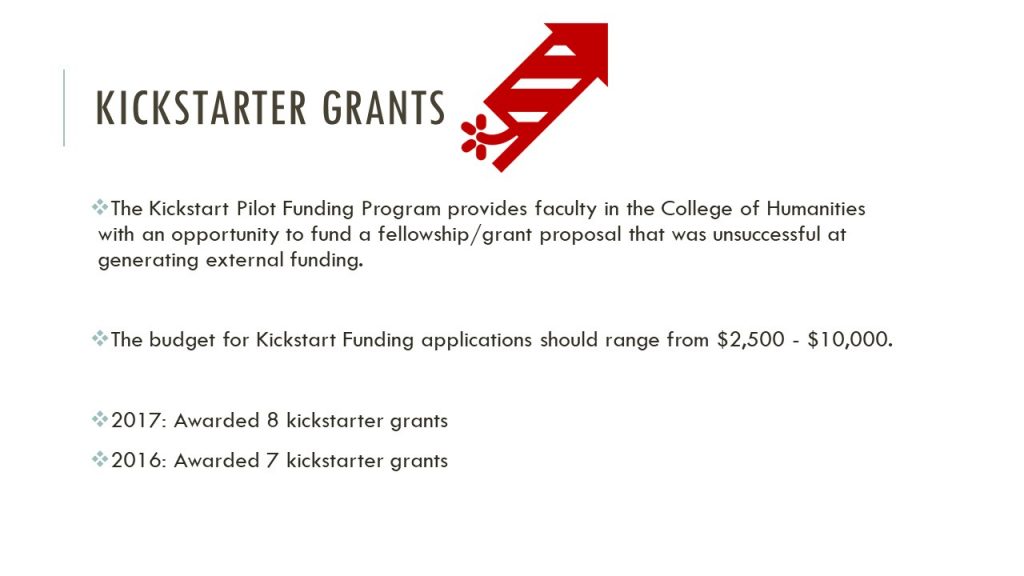 Here is an example of a Kickstarter Grant.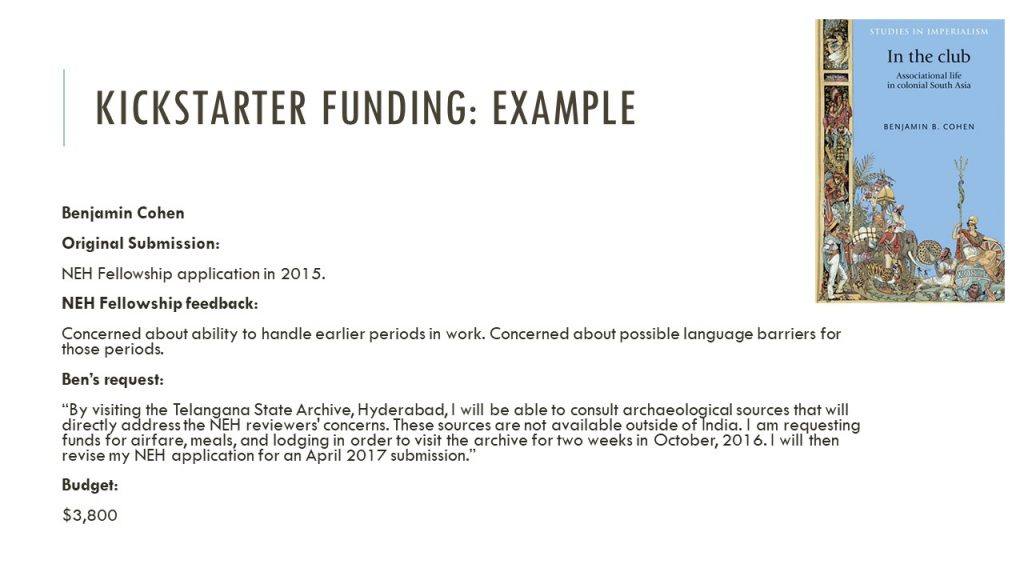 In 2016, we also launched two new awards for the college: Distinguished Scholar and Rising Star. One goal was to increase our competitiveness for internal and external awards. For example, Professor Elijah Milgram was named a Distinguished Scholar in the Humanities in 2016, and, not surprisingly, a Distinguished University Professor one year later.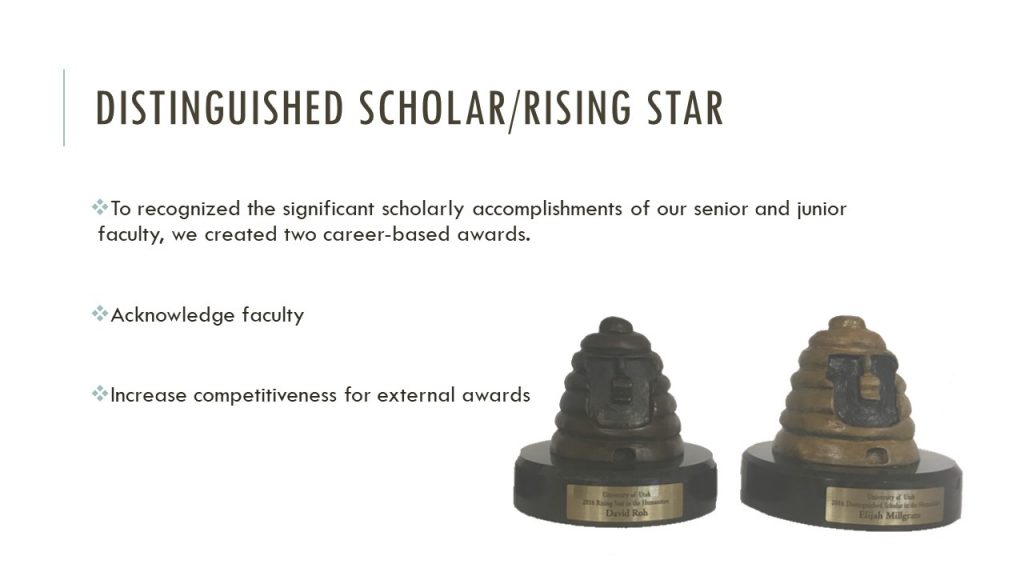 In 2017, we launched a conference funding mechanism. Professor Danielle Endres received funding for her conference on, "Energy Democracy." It was also funded by NSF.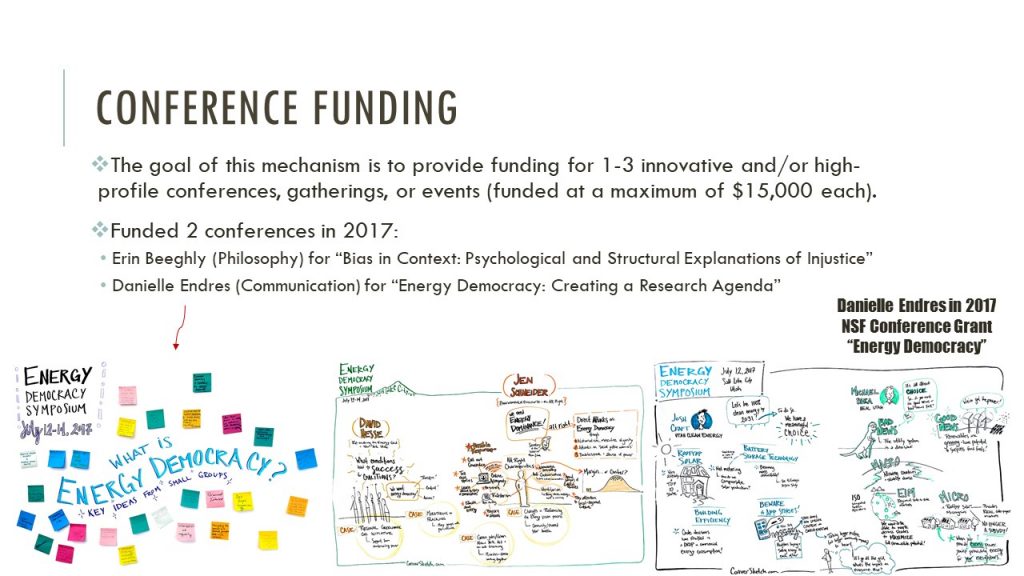 In 2017, we held our first college writing retreat in Park City, UT. It was 3 days, and a dozen faculty attended. We wrote fellowship and grant applications the whole time. It was wonderful. For 2017-2018, we held 5 day retreats and will be hosting another 3-day retreat in Park City.